Clinic Concept
UnMed Clinic Motomachi was born in 2021 with the key concepts, "To Meet Unmet Medical Needs" and "To Promote Preventive Medicine".
We enthusiastically offer high-quality, reliable clinical services to all of our patients in the Yokohama community on any days of the week. And also, we hope to support foreign residents in Japan aggressively. Any payment options, including cash, credit cards (VISA, AMEX, JCB, Mastercard, Diners), electronic moneys (PASMO, Suica), etc. are all accepted by introducing "Square".
Clinical Department
Internal Medicine
Obesity
Hypertension
Hyperlipidemia
Diabetes
Hyperuricemia (Gout)
Allergic symptoms (Hay fever, bronchial asthma, etc.)
Anemia, etc.
Please feel free to contact us if you have any medical concerns or if you want to manage your lifestyle-related diseases well.
Gastroenterology and Hepatology
Gastroesophageal reflux disease (GERD), fatty liver, non-alcoholic fatty liver disease (NAFLD), non-alcoholic steatohepatitis (NASH), pancreatic cancer, hepatocellular carcinoma, gastric cancer, colon cancer, helicobacter pylori infection, functional dyspepsia (FD), irritable bowel syndrome (IBS), inflammatory bowel disease (IBD), etc.
We first introduce LIVERFAStTM (Fibronostics, United States), an innovative, non-invasive diagnostic and screening tool for a complete liver evaluation. LIVERFASt™ is a blood based diagnostic test that combines 10 biomarkers and algorithm technology to determine the fibrosis, activity and steatosis stages of the liver.
A latest gut flora kit, MyKinso (Cykinso, Japan) is also ready for investigating your intestinal environment.
Don't hesitate to ask for my help if you have a problem with digestive symptoms, such as stomachache, heartburn, diarrhea, constipation, etc.
Sleep Disorder Clinic
Disturbance of sleep induction, nocturnal awakening and day-night reversal are different symptoms in sleep disorder. Therefore, we are introducing Pittsburgh Sleep Quality Index (PSQI) for more pointed diagnosis and prescribe the appropriate medicine.
Headache Clinic
Migraine, tension-type headache, mix-type headache, cluster headache and occipital neuralgia are all different phenotypes of headache. We try to make an accurate diagnosis and treatment.
Medical Check-up
You can receive all of your examinations including body measurements, blood tests, chest Xp, electrocardiography (ECG), vision test, hearing test and abdominal US (option), etc. on the spot by introducing rapid inspections with the feedback in English.
(You don't need to come to our clinic twice)
Cost of Check-up
Inspection contents
Cost of Check-up(tax included)
General health examination
6,050yen
Periodic health examination
9,900yen
Medical check-up
when you are employed or relocated
9,350yen
Medical check-up before travel
9,350yen
Health examination for lifestyle-related illness
12,650yen
Mariners health examination
(Under 35 years old)
7,150yen
Mariners health examination
( 35 years old and over)
12,650yen
※ If you want to receive your medical examination results in the designated form,  an additional fee of 1,650 yen (tax included) will be charged.
Face-to-face medical consultation / Teleconsultation
We would welcome any medical questions regarding current symptoms, current findings, diagnosis and treatment at the other medical facilities, etc. in English.
You need to make a reservation with prior information online in advance.
I.V. Clinic
If you feel tired, or want to become younger, you can get a placenta or several vitamins injection by advance appointment only.
Cost of injection
Contents
Cost of injection(tax included)
Vitamin B
Time required 10 minutes
2,000yen
Vitamin C
Time required 10 minutes
2,000 yen

Placenta Extract

 (Melsmon)
Time required 1 minutes
2,000 yen per bottle
2 bottles 3000 yen
Slimming (α Lipoic acid+L-Carnitine)
Time required 20-25 minutes
4,000 yen 

Myers' cockt

ail (Vitamins+minerals) 


Time required 20-25 minutes


5,000 yen
Travel, vaccination Clinic
We can offer several vaccination by advance reservation only. In addition, the certification in English can be immediately provided, if necessary.
Valid Format of "Certificate of Negative COVID-19 Test Result"
Considering the global pandemic of COVID-19 and the request of travelers' health certificate including PCR test from several countries, we start to carry out the PCR test and issue the certificate for foreign business travelers living in Japan who don't have any subjective symptoms.
Requirements
To be in good physical condition for the past two weeks.
You will be traveling overseas for business purposes.
Please be sure to contact the Ministry of Foreign Affairs of the embassies in advance about the designated time limit (from PCR test), the contents of description and the existence of specific document according to the country, and bring the documents, if required.
Please bring your passport to our clinic.
You can't undergo PCR test without your sign in a consent form.
If your test result will be positive, you should follow the instructions of the health center as an infected patient.
Costs
25,000 yen (tax included) for PCR test and the certificate
Notes
Please understand that several (2-3) days are needed to get the PCR result and to prepare the certificate.
Please make an appointment in advance and confirm the time line.
Smoking cessation clinic via telemedicine system
A total of 4 times of telemedicine (about 10 mins each) within two months.
You can choose Varenicline (oral agent) or Nicotinell TTS (patch) as an anti-smoking aid.
You can receive either of the drugs at home. Therefore, you don't need to come to our clinic at all.
Home healthcare
If necessary, we can visit to your house for you medical examinations and treatments.
You can receive blood tests, Chest and abdominal Xp, ECG, abdominal US in your house.
Occupational health consultation
We can support your company in English. In addition, we are preparing English medical lecture materials.
If you have any questions or concerns, please feel free to get in touch.
Consultation hours
| | |
| --- | --- |
| Monday | 9:00-12:30, 15:00-18:30 |
| Tuesday | 9:00-12:30 |
| Wednesday | 9:00-12:30, 15:00-18:30 |
| Thursday | 9:00-12:30, 15:00-18:30 |
| Friday | 9:00-12:30 |
| Saturday | 9:00-12:30 |
| Sunday | 9:00-12:30 |
※From April 2022, a substitute doctor has been examining for our patients every Friday. Therefore, please come to our clinic on other days of the week, if you wish to explain in English.
Message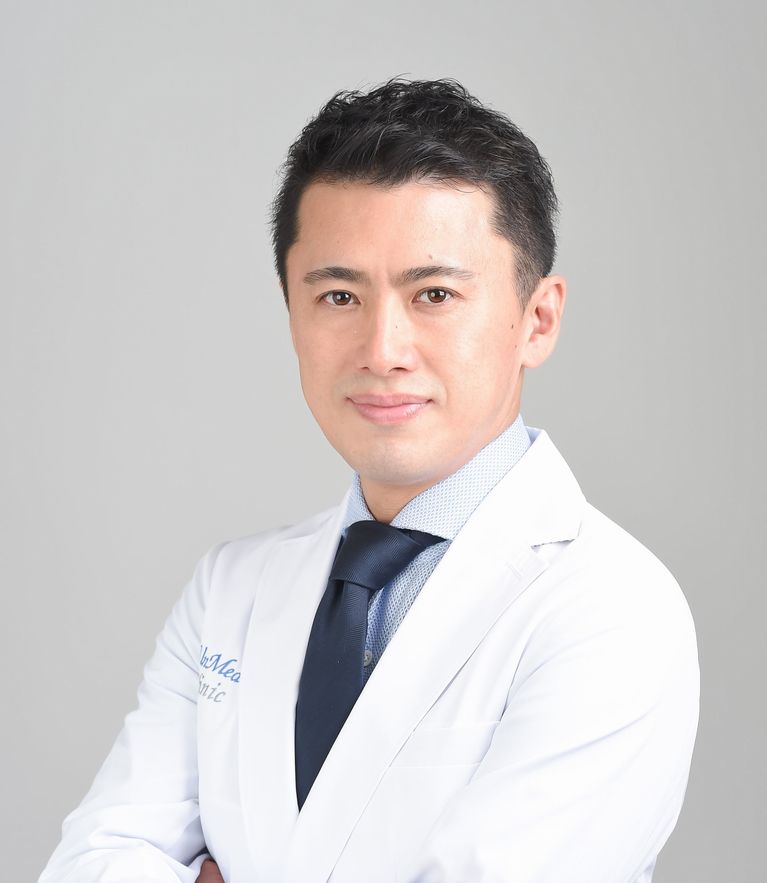 We positively accept foreign patients who want to communicate in English.
Even nowadays, it is true that not so many Japanese health-care workers can speak English well. With experience of residing in Los Angeles for two and a half years from 2015 to 2017, I always keep in mind that English-speaking patients can talk comfortably about their conditions and receive proper medical care in our clinic. We agree with that good communication is a significant step in the appropriate treatment for our patients.
About US
Director
Kazuki Takakura, MD, PhD
Career
Degree
M.D. The Jikei University School of Medicine 2003
Ph.D. The Jikei University School of Medicine 2012
Working History
Internship and Residency,
The Jikei University Hospital, Tokyo, Japan 2003-2008
Clinical associate of Gastroenterology and Hepatology,
The Jikei University Hospital, Tokyo, Japan 2008-2015
Clinician of Internal Medicine (on loan),
Tokyu Hospital, Tokyo, Japan 2011-2012
Visiting scholar,
Department of Medicine, David Geffen School of Medicine,
University of California at Los Angeles, LA, United States 2015-2017
Clinical associate of Gastroenterology and Hepatology,
Principal Investigator of Takakura Lab,
The Jikei University School of Medicine, Tokyo, Japan 2017-2020
Industrial Physician,
Motomachi Medical Support 2018-present
Director,
UnMed Clinic Motomachi 2021-present
Professional Memberships
Board Certified Member of the Japanese Society of Internal Medicine 2007-
Board Certified Gastroenterologist of The Japanese Society of Gastroenterology 2010-
Board certified occupational physician of the Japan Medical Association 2018-
Supporter of the Japan Society for Tobacco Control 2019~
General Clinical Oncologist by Japanese Board of Cancer Therapy 2020-
Councilor of the Japanese Society of Gastroenterology Kanto Branch 2020-
A designed specialist for intractable diseases 2020-
Editorships
Member of Editorial Board, Journal of Gastrointestinal & Digestive System 2011-present, JSM Gastroenterology and Hepatology 2013-present, World Journal of Clinical Oncology 2015-present, PLOS ONE 2019-present, Oncology Letters 2019-present.
Ad Hoc Reviewer, BMJ Case Reports 2011, Expert Review of Gastroenterology & Hepatology 2016, Journal of Translational Medicine 2016, Oncotarget 2016, Cancers 2019, Cells 2019, etc. (30 articles in total at present)
Awards
Young Investigator Award at 47th Annual Meeting of the American Pancreatic Association 2016
Best Abstract Award at 18th Annual Symposium of the Southern California Research Center for ALPD and Cirrhosis 2016
28th Financial Support for Overseas Travel Expenses of Medical Scholars from Japan,
the Ichiro Kanehara Foundation for the Promotion of Medical Sciences and Medical Care 2014
Presentations
18th Annual Symposium of The Southern California Research Center for ALPD and Cirrhosis 2016 Oral presentation at Los Angeles,
47th Annual Meeting of the American Pancreatic Association (APA) 2016 Oral presentation at Boston,
Digestive Disease Week (DDW) 2016 Oral presentation at San Diego.
Additionally, 3 poster presentations at the international conferences.
Publications
About 60 articles have been published on academic journals (including 19 of first author, 9 of second author and 20 of corresponding author).
For your reference, PubMed.